The forced monotone of Donald Trump's public address to the nation on March 12 was a striking contrast from his most recent State of the Union address. He sought to calm the nation as it faced the pandemic of the novel coronavirus COVID-19 in what was perhaps his most important public address. On the verge of breaking beneath the gravity of circumstances that spun far out of his control, however, rather than show his customary confidence, Trump seemed a President scrambling and in panic mode trying to rehearse stale tropes, but immobilized by events.
President Trump tried to look as presidential as possible, re-inhabiting a role of authority that he had long disdained, as he was forced to address a nation whose well-being he was not in control. The national narrative, as it was begun by WHO's declaration of a pandemic, was perhaps seen as a narrative which seemed to spin out of his control, below his eyes, as he tried to calm markets by addressing the nation in what he must have imagined to have been as reassuring tones as he could summon. With his hands grasped but thumbs flickering, as if they were a fire under which he sat, as if he were wriggling like a kid strapped in the back seat of a car where he was a passenger to God-knows-where, wrestling with the increasing urgency that his aides demanded he address the outbreak of the virus in the United States that he had long tried to deny. Serial flag-waving continued to fuel President Trump's attacks on China and the World Health Organization, as if trying to toe the line of adherence to America First policies of nationalism before a global catastrophe, that did not compute. If America First as a doctrine allows little room for empathy, affirming national greatness and the importance of a logic of border closures was all he could offer, and would be predictably lacking reassurance or empathy as he attempted to create a connection at a defining moment of his Presidency, but looked particularly pained.
If Trump rarely trusted himself to make hand gestures as he plighted through the speech, thumbs flickering, hands clasped, he every so often seemed distinctly out of synch with his austere surroundings, gold curtains drawn to reveal two flags, barely aware, perhaps, that the eyes of the world were very much on his performance in this new sound studio to which he was not fully accustomed, trying to explain that he had undertaken measures that had made us safe, even if he must have been worrying that the lack of worry he had been projecting and urging in previous weeks had risen across the nation, and his performance was not calming them at all. He was tasked with describing the vulnerability of the nation to the novel coronavirus whose effects he had downplayed repeatedly, but was no longer able to dismiss, and no longer able to concede posed a far greater threat to the American economy than the danger of "illegal" migrants he had so often pointed to as a cause of national decline: the virus that had already crossed our borders repeatedly, since the first cases of COVID-19 were diagnosed in San Jose and Seattle, would potentially bring down his presidency, and he lacked any ability to explain the scale of the effects of the virus that he had effectively helped release by ignoring warning signs.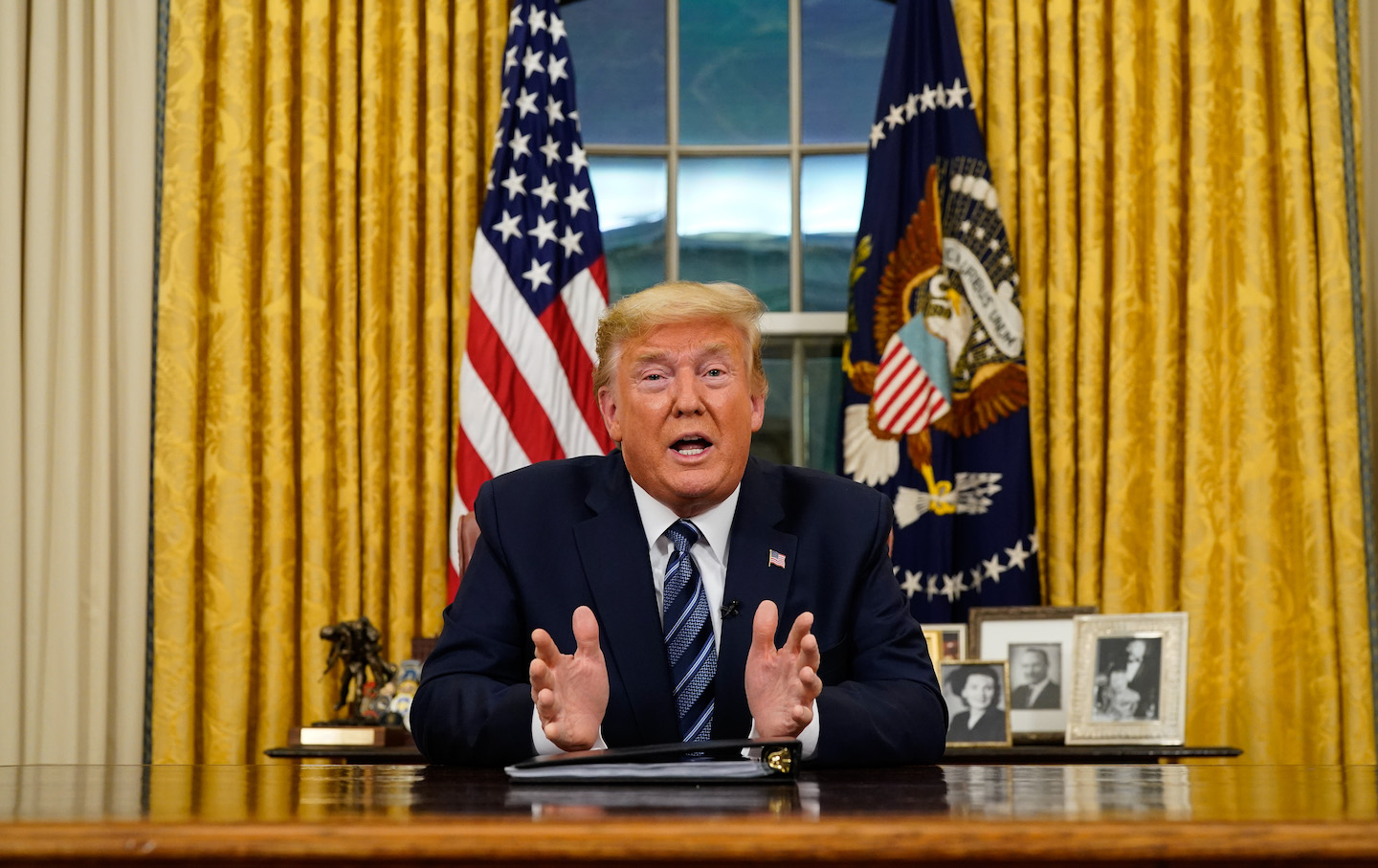 The link of America to the world defined in his America First candidacy–even made the very identification of a pandemic difficult to process. And he did so in the starkest national backdrop possible, vaunting his closing of borders, suspension of "flights" from China, and ties to Europe–even as he encouraged Americans to return from abroad, and had allowed unmonitored entrance of Europeans and world travelers into New York that would make it the site of the entrance of the disease to the majority of American cities where the viral load arrived, with over 900 people entering America through New York daily for months after China suspended travel from Wuhan on January 23–after China called the outbreak "controllable" on New Year's Eve. The declaration that echoed the concerns of the World Health Organization may have been buried in global celebrations, even as Trump blamed it for starting a sense of false complacence before undeniably "real" news that he feared would come to define his Presidency.
Trump was unable to accept declarations of the World Health Organization had just called the coronavirus outbreak–an outbreak which, we now know, he had in fact been hearing alerts from American intelligence as early as November 17, about the outbreak of cases of the novel coronavirus in Hubei province, rather than January, when initial infections in the United States were reported. As much as Trump found it difficult to admit the vulnerability of the United States to a global pandemic–or to the recommendations issued by WHO–who set the caduceus that symbolized medical ethics authority over the North American continent–at which he bristled at the notion of a global scope of edicts across boundaries, as if a map where national divides were erased as if it compromised national authority for a disease the President has been uncannily persistent in localizing in China, even before an increasing preponderance of evidence of its global circulation and transmission over a series of months.
As cascading fears grew in markets across the world, Trump was perhaps forced to realize his new relation to the world, even as the German stock exchanges plummeted as the measures he announced seem either difficult to process, or failing to address the importance of maintaining trade ties–or of taking adequately prudent steps of public health.
Slumping in his seat at the Resolute Desk, perhaps contemplating how no predecessor had ever delivered on air unprepared remarks from the desk, and visibly discomfited in doing so. He must have hoped to make up for his televised performance by sending surrogates scrambling to social media, issuing clarifications for misstatements–as the exemption offered U.S. citizens to return from China, or the exemption of Ireland, as well as England, and an assurance that trade would "in no way be affected" by the ban, as markets had reacted poorly to his performance. While it seemed that Trump was cognitively unable to process the possibility of a crumbling American economy–and a decline of America's place in a global economy–under his watch, a prospect faced since he had met with airline executives with whom he discussed the effects of stopping flights of foreign nationals from China in a March 4 meeting, offering them a bailout that limited the impact economic effects of heightened travel advisories, is it possible he had no sense of the massive fallout on the national economy?
As Trump spoke, global markets not only failed to register confidence–but plummeted, as he revealed no clear plans to to call for social distancing to contain the spread of the virus, and revealed that lack of national preparation for confronting an infectious disease that had no vaccine. He may have remembered that he had outright fired a former cabinet member, barely remembered in the rogue's gallery of administration, Tom Bossert, who had demanded preparedness "against pandemics" and a "comprehensive biodefence strategy" of the sort the previous administration of Pres. Barack Obama had tried to institute, or that a simulation of a pandemic that could devastate the American economy and kill up to half a million revealed in October 2019 "just how underfunded, underprepared and uncoordinated the federal government would be for a life-or-death battle with a virus for which no treatment existed."
It seems likely he was rather trying to conceal the massive scale of lying to the nation about the effects of an economic downturn unprecedented in scale, but which the increased lines at Wuhan's Tianyou Hospital the previous November had already indicated had a problem of infectious diseases on their hands that would have a potentially global consequence. Trump tried to spin the consequences as purely local, in an unprecedented wishful thinking whose scale of deception far exceeded the pathological deceits he had long taken to perpetrate on investors, business partners, and even on family members–from hiding his older brother's treasured trucks that were a Christmas gift and then admonishing him not to cry, or he would destroy them before his eyes. Even as satellite imagery showed a clear rush to hospital emergency rooms in Wuhan in November, as clusters of cars marked in red crowded the emergency rooms that revealed "a steep increase in volume starting in August 2019 and culminating in a peak in December 2019," when China began epidemiological investigations that led to identifying and sequence of the novel coronavirus by January 12, ten days before the city went on lockdown to contain its spread.
While Trump registered no alarm at the arrival of the very pandemic whose global impact American simulations feared would cripple the national economy, he tried to offer spin on having closed borders to the virus, as if it were not already diffused within the country, in a mind over matter sort of exercise that suggested limits purchase on reality, as if he was able to recognize the risk earlier administrations had identified as a national priority.
Continue reading