Anti-abortion activists almost salivated in saying that "it all comes down to Alito," as they hoped the Court might affirm the recent restriction of women's access to abortion in the state. Right to Life groups were particularly ardent about Alito's willingness to allow the Texas Heartbeat Act, which was up for review from the court, as if their efforts were getting national attention and could tip national law. John Seago, as legislative director of Texas Right to Life, expected Justice Alito to represent the interests of his organization, as he deferred to the judgement of one Supreme Court member in open terms, as if to privilege his role as an intercessory advocate: "We are [just] hopeful that Justice Alito will examine why the [request to stop the law being enacted on constitutional grounds] should ultimately be dismissed," hoping to find a like-minded member of the court to recognize Texas' right as a state to define wrongs against a public good that would trump personal rights.
The introduction of the elusive and illusory "fetal heartbeat" as a mandated threshold for medical care created a sort of mirror in which to provoke penitent reflection , the "now-you-see-it-now-you-don't" quality of whatever flicker of motion is detectable in a sonogram of a fetal pole so illusory that the measurement that was introduced in prenatal clinical care as a means to reassure women of the viability of their pregnancy is both not a heart beat and in fact impossible to measure, even if it seems to be about to admitted in court as a grounds for criminalization.
Legislators across several states have compelled women seeking abortions to undergo, irrespective of medical need, compulsory transvaginal ultrasounds, for the past ten years, using invasive insertion of a probe into the vagina to generate an ultrasound image now regarded as a basis for juridical truth. The invasive procedure now not only offers a means of dating pregnancy; the mandating of ultrasounds across much of America, as Texas, Louisiana, Wisconsin and Oklahoma all voted to mandatorily display and describe the image of an ultrasound to the woman in preparation for the abortion, regardless of a physician's will or medical need, making the viewing of an ultrasound was part of the procedure of abortion for woman in South Carolina, Georgia, Ohio, Arkansas, and Idaho–all Republican legislatures. The mandated insurance introduced in the America Cares Act led to a jump on "legal" restrictions on abortion since 2011, as local state legislators introduced 1,100 reproductive health and rights-related provisions and adopted 135 ways to qualify women's access to abortion in 36 states, as if in a dialectic relation to attempts to expand an individual mandate for health insurance for all. Is it a concerted strategy not only to curtail reproductive rights, but to a wedge against the desired expansion of an indivdual mandate for health insurance? The growth over the years from 2010-2013 of mandated ultrasounds across the United States provided a sort of resistance; as mandated ultrasounds grew by 2013, their effect unclear, but were mandated often with an opportunity to view whether or not the woman "availed herself" of the opportunity to view–or a mandate to view and have described in Texas, Oklahoma, Louisiana, North Carolina and Wisconsin, as if an exercise of biomedical introspection.
The very image-making technology relied on to record a so-called fetal "heart beat" at the center of Texas State Bill 8–as well as to date the abortions after six weeks that it would make a crime–had been on the books in many states; if the images were rarely used as evidence that further restricted access to abortion, they have become a basis, once admitted as legal evidence, to restrict reproductive health by introducing the "personhood" of the fetus into state legislation in ways that were not imagined or fully foreseen. The image-making technology able to confirm viability of a pregnancy was recently hijacked in Texas to remap the start of personhood in the embryo, would dangerously remap women's access to medical or reproductive care. The rise of local laws, from 2010 in Michigan and 2012 in Virginia, require doctors, irrespective of medical need, to furnish women–even for victims of rape or incest–with a photograph of the ultrasound, hours before the procedure occurred, a moment of "viewing" that is intended to provoke introspection, but this seems a rhetorical hope without actual impact in women's decision to terminate their pregnancy: if women appreciate the option to view an ultrasound, limited studies found, viewing images of the embryo before first-trimester abortions, those who viewed mandated ultrasounds were unlikely to stop their decision, if earlier decisions to terminate pregnancies might shift to continuing pregnancies to term.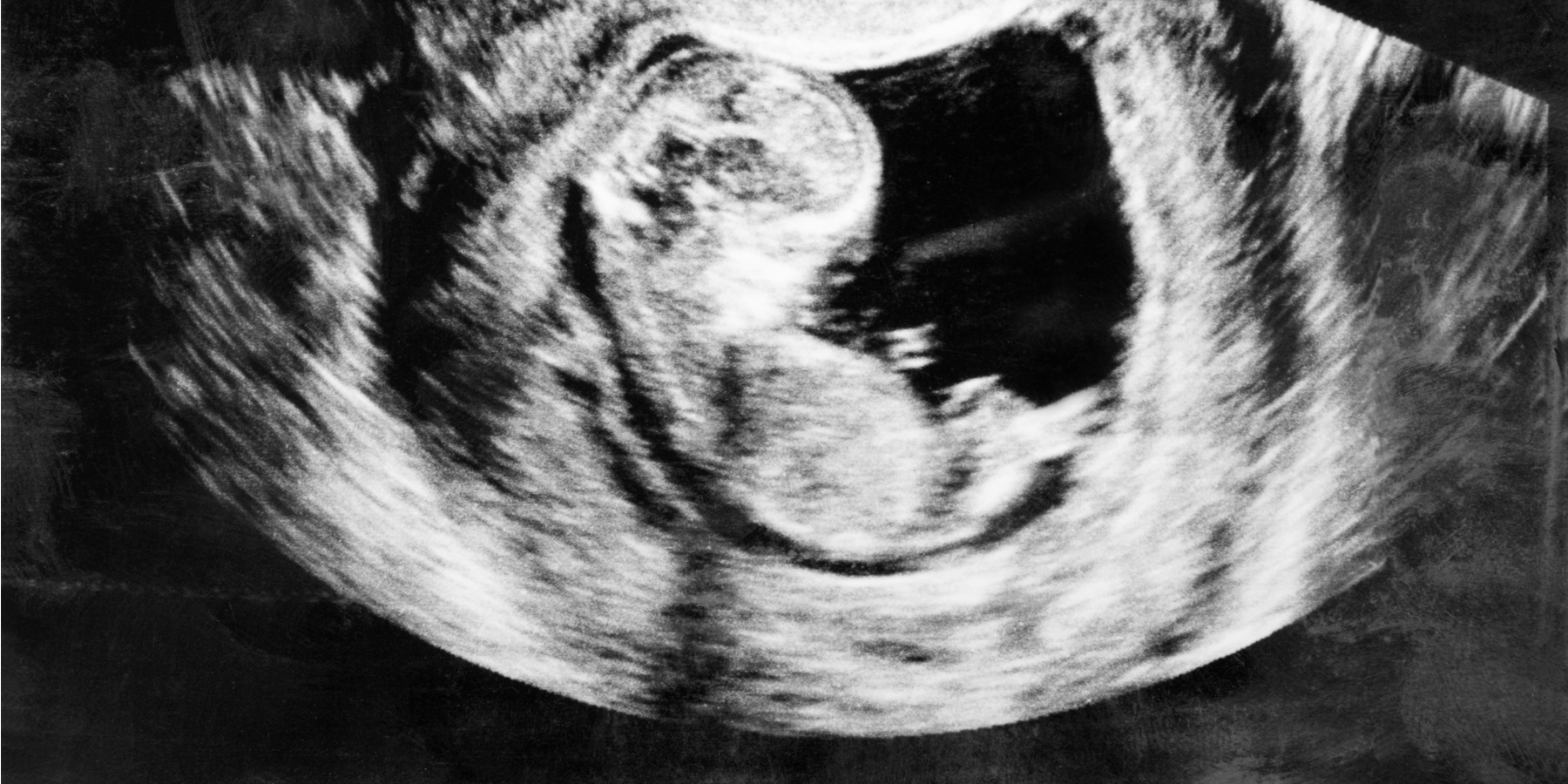 The physically intrusive procedure of registering the embryonic activity now serves to date an abortion's compliant with state law in Texas and generate a legal document, from which a physician cannot opt out, that will enter a woman's personal medical record, more than a measure to judge fetal health for medical ends, but to prove fetal personhood; mandating ultrasounds become a form of state surveillance in recent "heartbeat" bills analogous to SB 8. It would justify the apprehension of "guilty" parties and all complicit in assisting a crime. The Texas legislators about Governor Abbott posed in triumphant chorus, eight women joining male legislators in using hands to form a heart to demonstrate their collective love for the unborn in an official House photograph. Their action fetishized the "heart" as a rounded sign widely shared on social media affirmed electric impulses in the embryo's cardiac chambers signified personhood, and the common identity of legislators in a new political strategy, signing emotional identity with the unborn and a collective political mobilization, the "heartbeat" a collective acknowledgement of a bill that strategically imposed their will on the state.
The circumscription of abortion rights is of course the goal of such recent legislation of health policy. The crusading legal architect of the new state-wide policy, Stephen F. Mitchell, put it even more bluntly before the Supreme Court, by lamenting the court's imputation of any "'right' to abortion" as only a purely "court-invented right" that was judicially concocted with no constitutional grounds.
But the public safety dangers of the reign of terror that has inspired fears in so many abortion clinics to shutter their doors for women before they would even realize their pregnancy is a terrifying denial of medical care. The Texas Governor addressed anti-abortion activists alone when, in a signing ceremony, he praised "our creator" for having "endowed us with the right to life"–taking pleasure in the deeply distorting version he presented of human rights claims–adopting anti-abortion claims by ensuring "that the life of every unborn child that has a heartbeat will be saved from the ravages of abortion" as if this invasive procedure would convert all women seeking abortion to Magdalenes. As 49% of the almost a million American women who underwent abortions lived below federal standards of poverty in 2014, an growing demographic among those clinics surveyed, the largest proportion among those describing themselves as unmarried, although claims for Magdalene's promiscuity and poverty was a story strategically spun by Pope Gregory I in 592, although the exorcisms and penance of Mary were of scriptural origin; the image of the repentant woman who could preach abandoning the sinful path of abortion by recanting her decision to terminate pregnancy and carrying to term would illustrate her faith and conversion seemed a storyline that antiabortion activists relished in imagining a prominent role for women as advocates of their cause.
The redemption that Abbott acted as if he might promise residents of the state of Texas was, of course, contingent on the circumscription of the rights of pregnant women. We are, post-Trump, perhaps only beginning to come to terms with the effects of the cases about abortion rights invited by the new stamp that Trump put on the justices of the United States Supreme Court, for whom abortion could be recast by local legislators and local votes, as Antonin Scalia had sketched in his dissent to cases about Row and abortion rights–rights he claimed invented and absent from the Constitution.
What we may map as a Texan peculiarity suggests dramatically receding windows at which women can seek abortion of undue restrictiveness on a far broader map. While Texas offers a reflection of long-term restrictions on access to abortion poses health care problems a state where constitutional rights are under attack–creating twin deserts of women's health care and rights that should make everyone rage. Although access to abortion is described as "settled law," on the federal level, the insistence Roe v. Wade or later decisions entitling women to seek abortions as a matter of constitutionally protected rights to privacy has been revealed to be a vulnerable protection of civil rights by the current attempts of town councils or state legislators to push back on precedent. By 2016, but sixteen clinics served women across the state; "Sanctuary Cities for the Unborn" in the state multiplied soon after the June 2019 decision of the city counsellors of Waskom, TX , 5-0, as part of a concerted strategy to 'outlaw abortion, one city at a time," as much as a grass roots movement. The vote encouraged some thirty-eight cities to pass ordinances outlawing practice of abortion in their limits, voting against abortion in a strategy Justice Antonin Scalia advocating abortion demanded to be understood by voting on local laws, as it had no actual constitutional basis in a literal reading of the frames; following declarations of Waskon and Lubbock in Texas, twenty-five other municipalities in Texas, Nebraska, and Ohio adopted the strategy of the former Texas Solicitor General Jonathan F. Mitchell, who had clerked for Scalia, to curtail access to abortion at a municipal level of governance. Mitchell offered legal assistance to frame local statues to circumvent reluctance among Attorneys General to criminalize abortion, triggering a fake grass roots city-by-city battle against to undermine federal precedent or judicial consensus by city councils' municipal secession.
Texas stands as a site to break precedent on a national scale, disrupting consensus by adopting a precedent in which municipalities, counties, and state legislators develop tools to push back upon long-established consensus. After a spate of "trigger laws," designed to take effect if and when the Supreme Court , taking what was settled law into a dangerous field of "direct democracy" and false populism as a contravention of "Texas law" or of what Texas is unique, perhaps, exploiting legal double-speak, since presenting the 2012 attempt to confine abortion access to hospital settings as preserving women's health care, to the recent emergence of a discourse on "fetal rights" and fetal personhood, long a staple of anti-abortion activists, that has lead to a state bill invoking legal models of bringing suits against medical malpractice and the circumscription of freedoms, but are designed to circumscribe women's rights to access to quality health care.
As lawyers have reasoned that the courts had "concocted" a "right to abortion" undermining the public good, they have concocted the detection of a "fetal heartbeat" in the embryo as able to be read as grounds for personhood. This far more dangerous fiction of mapping identity in an organ whose chambers are not yet fully formed, but a powerful designator of humanity, is all the more apt to be read as one by the untrained, ready to see in the ultrasound what they want to see. The fiction of scientific objectivity led Texas Right to Life to distribute "Ordinances Abolishing Abortion" to towns from August, 2019, as boilerplate for city councils to "take matters into your own hands by petitioning your local government to protect unborn children"–by creating far more restrictive understanding of reproductive rights in the nation. These ordinances not only restrict access to abortion, but provide a dramatic curtailing of women's access to reproductive health of serious risk to the nation and the country. For with the expanded affirmation of access to abortion in several states in the northeast and west, the municipal votes in Texas suggest a local disruption of legal consensus long in the making, and seeking to divide the nation in the health rights it guarantees pregnant women.
We understand Texas, in the popular imagination, as the periphery: near the promise of the "border wall," it has emerged as an edge of America, To be sure, the on-the-ground picture in Texas of access to abortion has revealed disturbing trends for some time–disturbing trends on a national level as well–that may not have fully been appreciated in those blue state residents often insulated in levels of existential panic. Yet the recent questioning of the difference between burdens due and undue, as if seeking some semantic clarity in an issue that is imputed to be "muddled" by the court's failure to distinguish burdens that are "undue" from those that are "due" conceals the eagerness of hitting upon a unprecedented stratagem to recast national laws about access to health care in a regressive and retrograde fashion. Despite the huge "abortion deserts"–a map of which nationwide is in the header to this post–that demands being seen as a health-care desert–
The map may be unpacked a bit. The striking distances of abortion facilities to population centroids in counties offers a way to approximate the needed distance of travel to publicly-identifiable abortion facilities, and then observe the shift in distances that would be created by such 'trigger bans" and outright bans on abortion, as authors of a recent article in Contraception warned their readers already in 2019:
The changes of declining access to abortion were imagined to be pronounced:
When the New York Times tried to map the landscape that the court's decision could create by one decision, the actuality of affirming the "right" to abortion–in fact a right to privacy or to health care–as a judicial concoction imposed on the nation for women living in the twelve states that have adopted "trigger laws" that reflect a war of values between the culture of urban metro areas providing abortions to women in extra-urban regions whose access will be rather dramatically curtailed and reduced.
To be sure, the landscape in Texas since 2016 was bleak, with most clinics performing abortion only in cities in a very big state indeed, making a landscape ripe for curtailing reproductive rights, creating a stark urban-rural split as a microcosm of red-blue state division at the height of the Trump era: Austin, Houston, and Dallas-Fort Worth were relabelled as "cites of death" in the cartography of Sanctuary Cities for the Unborn, whose very name conjures the national division of the Trump Era. Even after the restrictive statutes of 2013 were struck down by the Supreme Court, Texas Right-to-Life has come to regard itself as battling the legislation of Roe v. Wade for the forces of good, in a landscape that already placed women in one hundred counties one hundred miles away from a clinic providing abortion in the name of the freedom of the unborn.
The threshold for abortion in the state of Texas was pushed back from fetal viability to just twenty weeks after conception, not so significantly different from the twenty-two to twenty-four weeks standard in the nation on paper, but a month that means a significant reduction of reproductive rights.
The current determination of the "life" of the unborn as existing at a cellular level–a platform of anti-abortion activism, dressed in the terms of modern science–suggests bogus indices to clarify what is not that Solomonic a distinction between viability outside the womb and within that Roe v. Wade established. The reliance on increased technologization of pregnancy offers a far more restrictive standard for access to abortion would dangerously curtail public health access of women across the nation–even if the "heart beat" mapped in the embryo by transvaginal ultrasounds is a a visual illusion, transmitted from the maternal heart beat or fluid moving within the maternal bowel where the embryo is developing, but while developmentally unable to be termed a heartbeat, if it suggests the viability of the fetal development. The ultrasound image is masquerading as a language of medical objectivity in red states, however, to magnify "abortion deserts" in "red" states– "abortion deserts" that curtail women's access to health care and rights to privacy able to gloss the divide between 'blue' and 'red' states, reading both in increasingly limited interpretations of rights. While Senate Bill 8 asserted abortion was a criminal act of a doctor, a crime no District Attorney would prosecute, the promising of a minimum compensation–better seen as an effective bounty–of $10,000 guaranteed to all citizens, neighbors, family and friends willing to report any attempts to terminate pregnancy by abortion six weeks after conception allowed them to reclaim the status of a longstanding crime in Texas law no District Attorney would deem to prosecute, and only metropolitan areas provide sufficient coverage to pregnant women seeking medical care.
The shifting grounds of access on women's health care in Texas as been watched for decades in the state, as much as from afar, closing clinics to effect a decrease in abortions, even after the U.S. Supreme Court had queried several of its provisions as "undue burdens" on pregnant women. Even after the suit brought against the State by an abortion provider, Whole Women's Health, aware and fearful of the dangers that closing abortion providers in South and West on women's health care, the decrease in state-wide abortions by a third as providers shifted after fifty miles away seems in retrospect a successful ground-game for curtailing access to abortion, and one that encouraged several municipalities to adopt restrictive local measures on abortion access. In ways that seem to have emerged in reaction to the America Cares Act, or Obamacare, the new law suggests how the state became a battleground for finding practices for restricting abortion rights, turbocharged by making restrictions amenable to the new composition of a Supreme Court increasingly eager to letting state law stand, with an eye to reviewing not state policy but Roe.
By entitling all Texans to bring civil suits on their own, however, as agents of the state, legislators mapped out a terrifying geography to trumped a pregnant woman's Constitutional right to privacy.; SB 8 frames a new geography of health care that restricts abortion far beyond these "sanctuary cities," offering rewards for enforcing restrictions on abortion beyond six weeks as impervious to judicial review as dangerous acts. By appealing to the collective enforcement of retrograde principles of moral purity, limiting access to health care in the guise of "heartbeat laws" affirm fetal personhood. Exploiting the performance of sonograms from measures of fetal health, the standard procedure after February 6, 2012 was mandated for all pregnant women seeking to abort became admissible evident in civil courts. Women compelled to be shown sonograms by the doctor performing the abortion since 2012 within twenty-four hours of the procedure accompanied by an audible recording of the embryo's cardiac activity, found the clinical relation to their doctor a way to furnish a legal record of abetting criminal activity and a public form of shaming. The "heartbeat" was not created by an actual closure of tricuspid valves, or a beat identical to the cardiovascular pulse of an extra-uterine environment, or either a basis for viability or as synchronized with breath. But it adopted how ultrasounds have become standard ways of screening embryonic abnormalities of cardiac development during the formation of valves of cardiac chambers and the parasympathetic neural network as ways of encouraging pregnant women to look within their souls akin to a confessional chamber, outside the diagnostic relation to an OB/GYN, or a clinical or hospital setting.
The alleged "heartbeat" that pregnant mothers are compelled to listen in clinics parallels formation of vascular muscles and conductive cells, but it seems a stretch to posit a "heart" or "beat" before the existence of coronary vessels, or cardiac chambers that are connected to the aorta and pulmonary trunk. Yet the mandated encounter with this sonographic registration has changed the clinical setting to a prescriptive encounter that erases any agency or identity of the pregnant woman.
By framing the clinical encounter in ways that serve a legal strategy based on the determination of embryonic cardiac activity–termed a "heartbeat" to invest the embryo with legal personhood–to cast abortions performed beyond six weeks as medical malpractice, and grounds for determining legal personhood or agency in order to establish its criminality against a public good.
At this early stage in pregnancy, the almost visual illusion of the "heartbeat" located in the embryo without any set chambers in the fetal pole that suggests the viability of the pregnancy, but any motion in the forming organ is entirely transmitted from maternal blood flow, her heart beat and her respiration, as much as grounds to invest personhood in the embryo. The visual illusion however tugs on heartstrings to reduce pregnant women's right to terminate pregnancy or seek an abortion. The reduced threshold of access to abortion compromises privacy, effectively converting the ultrasound developed for maternal health to a mandated event to procure to legal evidence of a crime that would not be admissible in court, focussing on the fetus as a living being by obscuring that the pole or embryo lacks viability outside the mother's body–and that its cardiac activity is likely triggered only by the mother's own. The glee with which Gov. Abbott tweeted his pleasure at the passage of the law was a publicity stunt, however, appealing to his supporters as a protection of freedoms–not a dramatic curtailing of public health–and adopting a particularly viscous policy of placing undue burdens on women, by dressing the wolf in sheep's clothing.
Foregrounding the heartbeat obscured promoting heightened public health risks. Abbott celebrated on Twitter long awaited restrictions on abortion as affirming that "the most precious freedom of all is life itself," imagining that the overturn of Roe v. Wade and "abortions will be outlawed in Texas. Texas will always foster a culture of life." As it moved from the medical sphere of the ultrasound to the popular debate, the heartbeat afforded a wildly popular symbol of a social media rallying cry among anti-abortion activists to secure the rights of the unborn, difficult to imagine as either rationale or logically organized, but which gained logic in its slippage of science to popular debate; the heartbeat was removed from indices of fetal development to an unformed squiggle in need of popular defense.
The recent adaptation or cooptation of a whistleblowers' right to sue any entity committing wrongdoing in any abetting or facilitating of the performance of abortion beyond six weeks distributed agency of legal enforcement as a moral economy of fetal development, outside professional judgement or medical ethics; the law, SB 8, overconfidently casts residents of Texas as District Attorneys and embryologists, based on non-expert acceptance of a cardiac activity, no matter how small, as sufficient grounds to detect legal personhood in need of state protection, as if trumping medical needs by a moral sense. The primacy of precepts of anti-abortion activists was revealed by anti-abortion protestors who proudly held signs in Fayetteville AK, affirming identification of a "Pro-Life" county "committed to the protection of all lives, including the lives of the unborn."
The increased elision of personal judgement and justice delegated the function of a District Attorney to prosecute it as a crime among all who were convinced of the criminality of helping pregnant women seek an abortion–dramatically circumscribing their access to prenatal health care. The state "law" all but erased or abolished legal agency of the pregnant woman, by treating the ultrasound developed for diagnostic measures as as a determinant factor in assessing criminality, and striking fear into abortion providers for opening themselves to civil suits for violating state law–even as they were only following federal precedent and constitutional statute. Having since 2017 banned insurance coverage of abortion in medical plans, new state anti-abortion laws, currently would further restrict access and place additional burden on women's rights to health care. In denying the right to health care, and indeed attacking the court for "imposing" an "amorphous 'undue burden standard" on the state, it is argued, the court itself "invented" and "imposed" a non-existent "right to abortion" without constitutional grounds–although the Constitution, when written in 1787, extends women exactly no rights, if it seeks to "promote the general welfare" or "domestic tranquility. In using the amorphous criteria of the "heartbeat" to allege public dangers of performing abortion beyond six weeks–although over 92% of abortions performed are in the first thirteen weeks, and pregnancy is hard to detect at six weeks–the very question of agency is blurred beyond specificity, as the legally mandated ultrasounds for all seeking an abortion for preserving maternal or fetal health are transformed to a mode of legal surveillance.
Any notion of a "burden" is denied by shifting attention to the index of the heartbeat as a standard of maternal care. In the decade since the Supreme Court found that restrictions on admittance to abortion clinics an "undue burden" on all women, the recent enactment of State Bill 8 shifts the onus of prosecuting abortions from state regulations, sanctioning all citizens–rather than state officials–by affirming the civil rights of any citizen to sue all abetting–or providing–an abortion, implicitly holding that this does not constitute an "undue burden" on a woman's right to seek an abortion before fetal viability. As Legislative Director of Texas Right to Life, Seago had boasted of his place in this new geography of medical constraints as he framed local ordinances prohibiting abortion in some thirty Texan towns progress toward formulation on a state-wide level: with the assistance of a skilled litigator who had brought many cases of medical malpractice, Texas' former Solicitor General Mitchell claimed shielded from judicial review and urged judges leave "the abortion umpiring business." He seemed far more comfortable in proscribing restrictive statutes without any biomedical support: while the option remained squarely in the court of women able to "control their reproductive lives," an assertion both without grounds and that limits women's agency to their control of sexualized bodies; to curtail the "false right" of abortion, SB8 invited citizens to bring civil suits against those "abetting" abortion for women failing to show sexual restraint, offering immaterial guidance for setting restrictive limits on abortion's performance by the fetal "heartbeat" that ultrasounds revealed to the observer willing to find in them evidence of human life.
The restrictive nature of SB 8 imputed actual criminality to the performing abortion, removing its performance from the realm of a pregnant woman's privacy or from health care by returning it to a question of public good. The hopes to return to a landscape of an era when the extraction of a fetus was illegal, and locating the sanctity of life on a cellular level. In expanding restrictions far beyond the thirty Texan city councils that now self-identify as "sanctuary cities for the unborn," legal action is now invited against involving themselves in any strategy that "aids and abets an abortion." In ways that ingeniously appropriate the near forgotten geographical divide of contested "sanctuary cities" that refused to dedicate local resources to enforce federal immigration laws, that had provoked the wrath not only of Texas' Attorney General, the "sanctuary cities of the unborn" suggest a new divide for the nation, and a hope to politicize divisions with little benefit to public well-being or tranquillity.
Reflecting a recent politics of opposition around immigration rights, the re-designation of "sanctuary" cities use a rhetoric of religious protection to curtail abortion may provoke a similar national divide, and to seek a newly receptive Supreme Court open to restrict the pregnant women's constitutional rights to privacy.
The re-appropriation of so recently divisive a term seems perversely designed to create a shift in the national landscape had precedent as a form of polarization–and polarization is something Texas does well. Immigration laws were pushed back on in the Trump Era even in the "red" state by Dallas, Austin, and Houston, who, siding with families of immigrant populations, had proudly declared themselves to be sanctuary cities by refusing federal executive orders on immigration that were hardly democratic laws with legal precedent, taking municipal funds off the table for their enforcement. The newly declared largely rural "sanctuary cities for the unborn" reveal a counter-geography of sorts, echoing the state legislature's banning of any city to comply with federal immigration law, not assuming they would not face legal challenges, but almost inviting them.
But although It is tempting to see SB 8 as an issue of red states like Texas–or the south–perhaps because the rift in standards of health care are so extreme–but we would do well to regard those "red" states are grounds for battle lines for staging a struggle against abortion nationwide. For in 2021, eleven states adopted ninety laws meant to restrict women's access to abortion — the most in a single year since the 1973 Roe v. Wade established fetal "viability" outside the womb as a threshold for women's right to abortion. "Heartbeat" laws posit a "fetal heartbeat" as the index that would mandate ultrasounds for abortions, no matter at what stage of gestation, to determine "according to standard medical practice, whether the fetus has a detectable heartbeat," even if the putative beat is a legal creation more than a medical one, and the "flutter" perceived in sonograms suggest the first cardiac cells in an embryo firing electrical signals, more than they map onto an individual, and has no bearing on the viability of the heart, the embryo, or the pregnancy. Yet the legal fiction of a "heartbeat" is presented as a technologically modern registration, able to reframe constitutional rights and health laws and the legal high ground, even as abortion rates had fallen nationwide.
The shifting landscape of reproductive health care is not without a clear echo of the way states "stood their ground" in local refusal to accept federal health care funds, akin to separatism–leading a full twenty-six of the lower forty-eight states to outright exclude insurance coverage for abortion in medical marketplaces.
Continue reading