As he waited rather glumly for "the Feds" to arrive at his home, as his stepfather predicted, Airman First Class Jack Douglas Teixiera may have pondered why he had posted classified maps of heated battle fronts in the Ukraine War to Discord was aware he was speaking to a much larger audience of interested readers than he ever considered. Teixeira's friends defensively stuck with him, explaining the enlisted airman was a peaceful anti-war man, who "just wanted to inform some of his friends about what's going on" as if the global battlefield was seamless with video games. Many in his largely male circle even had buddies who were actually fighting in Ukraine. He felt for them. The appearance of a mass-drop of top secret government documents must make us wonder not only about the restrictions on secret military information–and the security of detailed surveillance maps–but of the remove of the interest in the maps as cool images from the war they describe.
Texeira, who has been described as not a leaker like Edward Snowdon, but just a normal guy, had a preternatural passion for scoping out the battle-plans of Ukraine, profiting from the security clearance to "Top Secret" files he gained just two years after joining the National Guard. From his perch in Cape Cod, Teixeira had the sort of a privileged perch to read intelligence–and a gamer's keen eye for detail of a war scenario–that you have to wonder what sort of division he sensed between the video games he enjoyed matching wits in post-apocalyptic scenario and the sense that he knew many who had shipped off to fight abroad, as he might soon, and the eager attention of a family who were proud of the uniform he wore to report to duty at the 102nd Intelligence Wing of Otis Air National Guard Base to manage and troubleshoot critical communication systems. As more information flows about global battlefields are routed and monitored from decommissioned Air Force stations in bases no longer charged with flying missions, the expanded intelligence-gathering function of drones leaves many watching large flat-screen monitors, removed from battlefields–or the battlefield terrain–
–participating not in airplanes, but in new tasks of surveillance, intelligence and reconnaissance that provide the basis for information-gathering that are deemed adequate for global war–"robust, multi-intelligence processing, exploitation and dissemination (PED) activities" that reflect the new architecture of the distributed networks of what global war. As Reaper drones fly above the Black Sea–over "international waters" outside the exclusive economic zones nation-states claim as part their national waters–even as Russia has from 2016 sought to transform the Black Sea's waters, in the words of NATO Secretary General Jens Stoltenberg, "into a Russian lake." Russia has annexed the continental shelf entitlements national waters of the Autonomous Republic of Crimea–shelf entitlements once belonging to Ukraine–for gas and sand mining guarded by air defense systems of its Black Sea fleet, the Russian navy has obstructed up to a quarter of the Black Sea–
Black Sea Regions Russian Navy Shut off from July, 2019
–laying effective and actual claim to its territory, American Reaper drones have maintained regular flights to monitor the battlefield, gathering intelligence about the Ukraine War from 50,000 feet, and increased their surveillance flights over the region from 2022. The new mission of gathering 'sensitive intelligence" depends on flying over what America still considers international waters–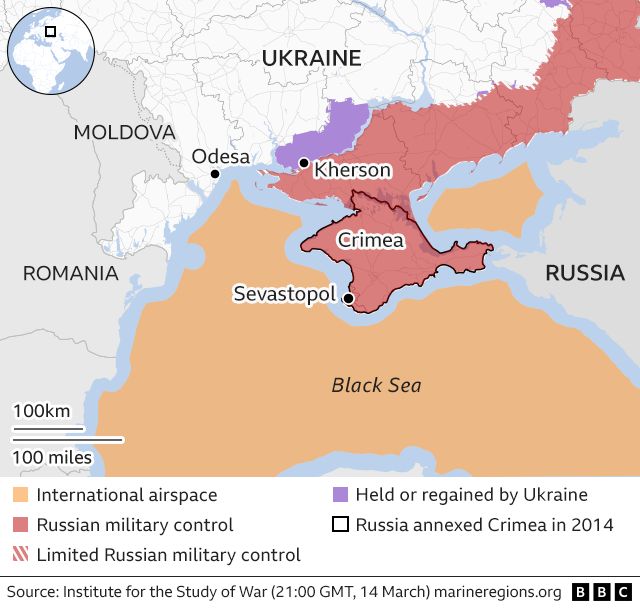 –although the dispute of how close the aptly named Reaper drones or Global Hawks might fly to the coast of the former is contested, and every nautical mile from Ukraine's coast and the Crimean airspace compromises the amount of military intelligence that they can gather–and U.S. military intelligence was increasingly eager to expand drone flights to Russian-held territory in March 2023. The latest intervention in this ever-expanding theater of distributed war was, improbably, in Cape Cod. What has been called a "casual theft" of Top Secret intelligence of battlefield maps were sites of endless curiosity to the American Airmen who seems to have used their access to the monitors to take photographs of the maps over a few months, posting them to a gaming network. Jack Teixeira snapped shots on his iPhone of hundreds of maps of military scenarios, foreign land and air defenses, systems designed to deter Russian missile attacks "to defend [Ukraine] against Russian aerial attacks from all latitudes, and other documents from top secret spy satellites, signal intelligence, and infrared sensors. He included, for added interest, detail about mounting troop losses on both sides over time, with unclear appreciation of their actual geopolitical significance.
Rather than "stealing" the intelligence for a spy network or secretly embedded moles, the map that dropped on social media suggest the hidden vulnerabilities of expanding distributed intelligence from increasing drone flights across such distributed intelligence networks. Even as Ukraine insisted that these were outdated information about "constantly changing positions" in an entrenched territorial war, where positions shift in a war of attrition, the projections of the depletion of air defenses by mid-April or early May suggested a dwindling of resources that coincided with the debates on providing long-sought surface-to-air missile systems and a Patriot Missile System just arrived in Ukraine to defend Ukraine's borders. Borders were, of course, in flux and up for debate as the intelligence collection of MQ-9 reaper drones, as the one that Russian
Airman Teixiera and other gamers liked to kick back by imagining a survivalist scenarios in the past. Part of this online sociability was boasting of his ability to share early info about the coming invasion of Ukraine, noting the intel on casualties on both sides during the war to his best buds on the internet, life-time non-disclosure agreement signed or not. As well as describing Russian boots on the ground and predicting plans for invading Ukraine, his circle enjoyed using their skill navigating the undead that populated the post-apocalyptic landscape of a future Kentucky, in a zombie apocalypse: legions of zombies where death is not only inevitable, anthropophagy all too real a threat for its players. The game seeks to capture a palpable thrill of death in the immediacy of its fictional topography, levels of risk distinguished by the revelation of hidden appearance of the undead meant players have to face the sudden possibility profuse bleeding lies just behind a door or around the corner as they navigate zombies invaders in a rural America of a not distant future. Weren't the maps of Ukraine's forces a similar rush of navigating a tight spot for the gamer group known as #War-Posting? Approaching real war with truly vertiginous proximity, the military slides suggest a terrifying landscape of death, with real time troop fatalities on display.
This is in fact not far from the actual daily scenario soldiers regularly face in many outposts of the Ukraine War, as Ukrainian soldiers hunker down in hopes of defending actual bombed-out cities like Bakhmut and other war-torn landscapes. But the daily tallies of war dead in Ukraine seemed to be rising so quickly in Teixeira's daily posts on Ukraine battlefields from NSA and CIA records, dating back to February 2022 or over a year ago, that Ukraine must have almost replaced Zomboid for its cool factor, before he shifted to the Discord platform in December. The photos of paper maps of military groups of the Russian forces, Wagner forces, and Ukrainians provided a game-like view of war.
The leaked slides showing actual battlefields–"Here, have some leaked documents!"; "I have more than [merely] open source info–Perks of being in a USAF intel unit!"–fed our collective interest in geopolitics in ways that made them appear quite eerily much more seamless with imagining oneself amidst an apocalypse. They circulated mostly among gamer groups who liked to visualize themselves to, by some sort of futuristic time-travel, and one can imagine them teleporting themselves instantly from a war-torn rural Kentucky in which deadly zombies threatened their lives, hidden in dark corners and around doors, to Ukraine, from the pseudo-military landscape of omnipresent threats to actual war. The internet became a source not of leaking, but sort of platform designed cyber transport systems specialist, processing top secret military intelligence briefings from his base outside Boston, in Cape Cod, uploading hundreds of slides of real-time intelligence on a global scale arriving from the Office of the Director of National Intelligence, National Security Agency, and CIA, beyond intel collected from drones, to many friends.
Project Zomboid
The early maps that showed the expansive battlefield of Ukraine, so removed from his station in Massachusetts, shared a board-game like image of the war that had a real-life frisson. To be sure, Teixeira did condemn the military as run by "the elite politicians," but loved war games. If the earliest maps leaked anticipated Russian military advances into Ukraine, rather than trying to leak military strategy, or suggest an interest in geopolitics, Teixeira seems to have been fascinated by toting up the daily tally of war dead on the battle field of Ukraine, sitting in his base, posted fatalities of Russian and Ukrainian troops–some argue that he diminished the losses of Russians, or augmented the number of Ukrainian military fatalities–as the military conflict maps became an inside running narrative of the war. This was not Daniel Ellsberg or Edward Snowden: there was no horror about war, but rather a sort of vertiginous fascination with the scale of death of one practiced in war games, ready to appropriate battlefield intel to encounter the frisson of true Thanatos, without much Eros available to the eye or mind.
Paper Map from Group Shared by Airman Teixeira on Social Media from January 2023/BBC
The enumeration of the tally military dead on paper maps to which he had clearance and privileged access–by all accounts sensitive information–became a glorified killing fields in which Teixeira seems to have realized his friends would delight more than Zomboid, with an eye to the cool factor of classified information. In the ecosystem of attention, the highly classified maps of the Ukraine War have been reposted and reshaped, occurred with little sense that their audience was with real-world interests, or that the scenarios they described were real. "This guy was a Christian, anti-war, [who] just wanted to inform some of his friends about what was going on" on the other side of the world, even if it was in the daily news, said a friend from the online community, defensively arguing that some of his fellow-gamers were even in Ukraine, and they were thinking primarily of their personal ties to them.
Did the gamers just want to inhabit the landscape of combat that was even more "real" than existing gaming situations, zeroing in on the fatalities and deaths in the fight for control over real terrain in Eastern Ukraine–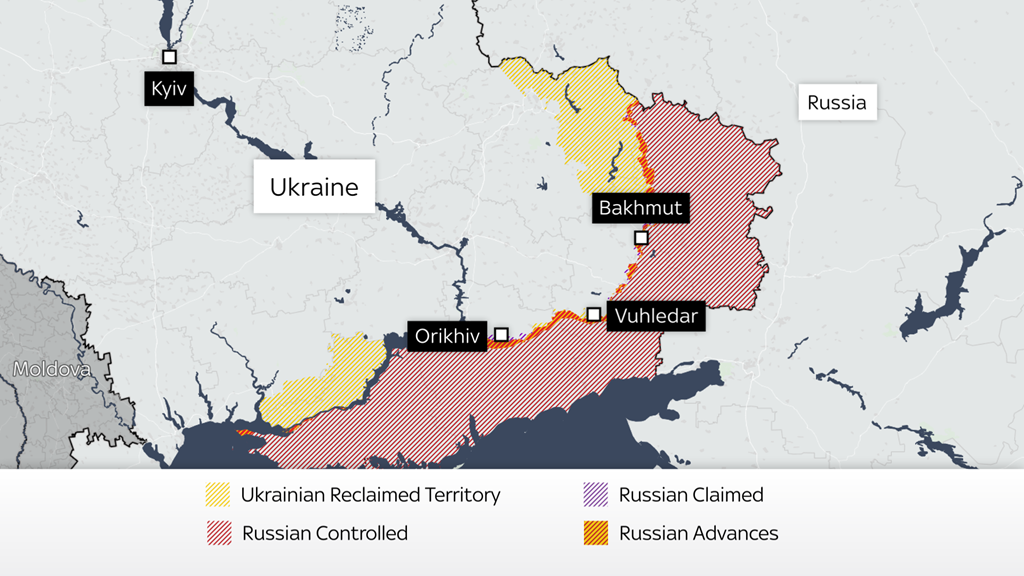 –at the same time as everyone in the world was trying to use the best geospatial intelligence to assess the fight over contested terrain, watching daily updated maps of the battle over the last year, in hopes to follow the gains of Russian forces around critical combat points like Bakhmut, that so sharply contrasted to the rapid gains Russian forces had made in the military offensive in Luhansk.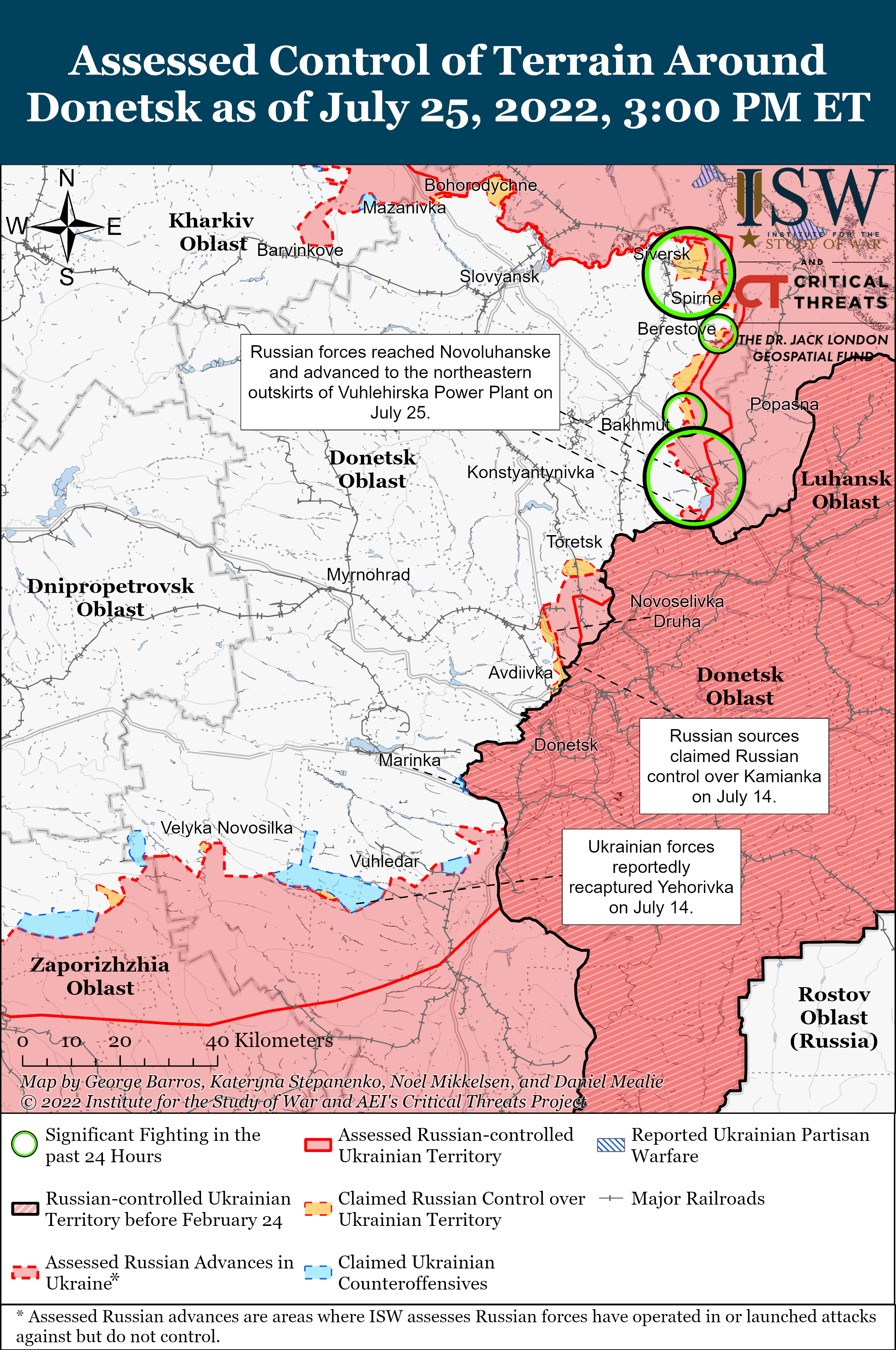 As the lines of military combat were contested, and media footage was posted of military advances into social media networks and messaging channels, the attacks of Russian advance moved slowly, being able only to capture small slivers of terrain in weeks of fighting Ukrainian defensive positions, often raising questions of why they were less able to exploit battlefield geometry and Ukrainian defenders relied on their effective degrading of offensive positions in a war of attrition. After months of very marginal territorial gains against Ukrainian forces, fundamental limitations of on gaining substantial grounds had begun to appear, adding a new dramatic quality to the war. In short, this made compelling stuff, difficult to fully track in words, clearly part of a global war dynamic more interesting to navigate than the zombie wars back in the alternative future of rural Kentucky. Thumbing his nose at military authorities, Teixeira used the pipeline of classified maps he had access even to compromise military theaters globally, using his phone to shoot secret information about Canada, China, Israel, South Korea, the Indo-Pacific military theater and the Middle East.
Teicheira, in a sense, was acting in ways akin to Edward Snowden, his head burst from processing reams of geospatial information that were impossible to fully get one's mind around, even if Teixeira's actual reaction to the challenge were of a very different ethical stamp. For this spate of over-sharing of slides was not really only about Ukraine. It rather offered a sort of ecoysystem that existed at an angle to the world: "We like fighting games, we like war games," and the more real, presumably, the better. And the maps of real population centers, front lines of operation, and key assets–a vocabulary and graphic syntax that was troublingly–or maybe not so troublingly?–akin to a game board or a board game, even if it was labeled "SECRET//NOFORN."
It must have seemed pretty cool when it was making the rounds on Discord online in early March, and then eventually migrated onto 4chan by April 5, 2023. By then, the widening online circulation of the maps created such an international kerfuffle to compel U.S. Secretary of State Antony J. Blinken and Defense Secretary Lloyd J. Austin to try to explain the commitment of the United States government to prioritize "safeguarding intelligence" even as the carefully sourced lightly encoded battlefield assessments of air defenses and discussions of military capacities of each side globally spread, and the Discord group known as #War-Posting improbably intersected with a real war, and Thug Shaker Central shook down from the trees some seriously large fruit. It was perhaps not any surprise that Jack became promoted as a poster boy for the MAGA crowd by @RepMTG, the MAGA megaphone, quick to defend the "white, male, christian and antiwar" man who promoted the man-child they recast as "an enemy to the Biden regime."
And the Airman who violated his life-long nondisclosure agreement with the US government became a "kid," a renegade American speaking truth to power, as he was praised for having finally "told the truth about [American] troops being on the ground in Ukraine, and a [whole] lot more," on FOX, warned Tucker Carlson. Carlson's media megaphone liked to circle back to Ukraine, and he hardly hesitate praising Teixeira as an American hero of real principles–unlike the American administration that has committed to defend Ukraine's sovereign borders. Indeed, he cast Teixeira's arrest for criminal activity as a form of telling truth to power–making a poster child of the Airman's leaking beneath a menacing image of the actual Secretary of Defense, Lloyd J. Austin, seemingly designed as if a mug shot to make his shiftiness appear all the more suspect to entrust American troops.
Carlson claimed far deeper interest in geopolitics than the Airman ever expressed. From his Fox News platform, Carlson praised Teixeira for a principled stance, while overlooking the illegality of posting classified military information on open servers. For critics of American military involvement in Ukraine, as Carlson, the feds were moving to "destroy him," targeting the "kid" whose release of top secret maps was red meat to Republicans already eager to cut American ties to Ukraine. Carlson couldn't know that this was within his final weeks as a Fox anchor.
He asked his audience to overlook who is the criminal, describing the maps as revealing a board-game of Ukraine War as the battle-ground of a proxy war between American and Russian troops America had accepted, as Carlson described them as revealing what j the "war machine" of the national news media ignored but the slides "reveal that this is very much America's war,"–that the Ukraine War is really between the two prime nuclear super-powers on earth, together with the Biden administration encouraging war crimes with aid of the mainstream media.
Domestic politics seemed to trump international relations; the leaker was championing of this leaker by both Tucker Carlson and Taylor Greene–who sits on the Homeland Security Committee in the U.S. Congress. Was Taylor Greene illustrating she might not be the best person to trust with national security information of any kind? Her readiness to tweet out secret maps monitoring troop positions and deliveries of military materiel, estimates of military capacity on the ground and more, if irresponsible from a national security standpoint, set a new standard for amplifying actual leaks. As if to deflect media attention from Russia's behavior on the battlefield, the leaked maps served to deflect attention from the stakes of the Ukraine War, a chance to unmask an extensive cover-up by the Biden administration.
Teixeira's leaked slides raised a specter of "mission creep"–an escalation of involvement far beyond stated goals, an echo of Vietnam or Afghanistan, a military expansion far beyond arms transfers, long threatened as a domestic risk for America, a "blank check" or irresponsible statecraft–Carlson promoted the problems with the presence of "much larger presence of CIA and US Special Operations personnel" than acknowledged, as the Airman revealed–and became emblematic of–a secret expansion of a hidden war in which the Biden administration had involved the United States that "Ukraine is actually loosing," Carlson told his viewers. This "leaker" was a hero. Teixeira–"the kid"–has become cast by the White House and its cronies as a "criminal" who needed to be apprehended by federal forces, but who had taken their own eyes away from real questions of national security in sending forces after "the kid" who is a patriotic American.
We all know that Carlson was among the more vocal critics of American military assistance to Ukraine in any form. He happily spread anti-Ukraine propaganda on Fox, when he confessed he "secretly root[ed]" for Russia in 2019 as if he were the spectator to a conflict he had no stake in–"Why do I care what is is going on in the conflict between Ukraine and Russia? Why shouldn't I root for Russia? Which by the way I am."–and America had no reason to "care" about, but in which "we should probably take the side of Russia if we have to choose between Russia and Ukraine." Teixeira's gambit became enlisted as a reason to shift American viewers' attention from the extremely brutal war crimes that Russia had performed against civilians, converting the actual war in Ukraine to a set of leaked maps that proved the endangering of America's global interests.
Tucker Carlson Tonight, April 13, 2023
Why was this unprecedented leakage of top secret maps seized on by the MAGA media to decry American involvement? If so, why was the twenty-one year old Teixeira styling himself by online avatars like TexKilledYou, popular on military focussed social media platforms primarily for his survival games, as if he was enjoying being a marketer of a more real survivalist death gave of his own design? Was being a leaker a sort of IRL survival game, in some bizarro way?
Carlson spun it eagerly as a question of deep patriotism. Carlson used the story of "the kid" as if to magnify Americans' fear of military escalation in Ukraine, as it offered evidence, even if Vladimir Putin dialed down nuclear threats, of the threat that "the United States is a direct combatant with Russia" and "American soldiers are fighting Russian soldiers"–even though, as Greene affirmed, when she shared her own copies of the removed maps, "Russia poses no threat to the United States." The proxy war was hard to read in the maps, but the legibility of the maps was not really the question, after all. The level of detail on military operations that American forces were witnessing offered enough–military monitoring and intelligence assessments of troop locations and battle plans–to suggest a proxy war that might escalate into a nuclear exchange.
The detailed monitoring by American forces of intelligence projections resonated with Putin's charges that the United States seeks to undermine Russia's sovereignty–and seemed to obscure that it was the invasion Putin staged and organized that was explicitly aiming to end Ukraine's existence as a sovereign country. The social media drop to the gaming group Thug Shake Central was neither partisan or ideological. The document drop was primarily shared for its coolness included a reveal of future plans for a buildup of Ukrainian forces–a subject that dominated global media sphere–and maps that project a range of eye-opening"wild- card scenarios" stunning as they imagine a range of potential escalations of the theater of war–as well as a negotiated end to the conflict–including a Ukrainian strike on the Kremlin itself and the death of Russian President Vladimir V. Putin, a scenario of a level of violence that was not ever openly described. To be sure, there were many things that were not in the maps, that we might do well to focus upon, instead: the six million internally displaced residents of Ukraine since the invasion began, and the eight million that have fled the nation.
Neither do we see the status of Ukraine's invasion as a potentially pivotal place in global theater of war–or the fact, all too often elided in maps on the ground, that whatever scenario occurs, Russian possesses the greatest nuclear arsenal in the world. For Tucker Carlson on FOX, "the slides show that this is in fact not Ukraine's war, it's our war," Tucker Carlson affirmed, arguing that it showed that "this is not a regional conflict in Eastern Europe, but this is a 'hot' war between the two primary nuclear superpowers on Earth," suggesting that the Biden administration was concealing the global stakes of Russia's quite openly imperial stance to an expanded "sphere of influence" on a truly global scale–including Armenia, Syria, the Middle East, and Africa, or the global nature of the over 10,000 sanctions that were imposed on Russia after its invasion. The permanence of Russia's claims can hardly be called out as not regional–if one looks at the maps that Russian forces have plastered themselves in cities like Kherson, claiming to be "here forever"–
"Russia is Here Forever," Kherson January 2023/(c) Anastasia Magazova
–or the maps of the sanctions that forty six countries have placed on Russia, aware of the danger of the expansive military claims Russia is unprecedentedly staking in a zone where Ukraine stands at the epicenter of a global crisis in democracy where Russia has tried to impose its will on a nation.
February 20, 2023
There was little interest in revealing the presence of American forces abroad. Wasn't the strategic mapping of military forces in the slides, however, not the reason for the interest in posting the images to a group of serious gamers on Discord in the first place? While the slides bracket the question of whether the invasion of Ukraine was not a global crisis in democracy, this would be bracketed in the sort of strategic maps that Zomboid fans might like to focus, finding the cool factor in the on-the-ground strategic questions of life and death, where no real values exist save questions of brute survival, more than the real threat of unfolding a war of stabilized conflict that is the entry point of a new Cold War, and growing battlefields which have only victims. The Biden administration, one might almost sense, had been waging their own war games in Ukraine against Russia–never mind that they were the active aggressors–that the American architects of the war sought to keep hidden from the American people.
The military maps leaked demand some attention, however, in themselves. Was the increased realism gamers have come to demand from combat games like War Thunder–where several secrete military documents appeared in January–including the diagrams and system manuals for military aircraft not yet in production–spread to reddit, meriting wrist-slapping from moderators made about leaking "export restricted or classified documents" in internet arguments escalate to federal crimes, an example of the increased confusion of gaming intensity and the ethics of public communication? The whole episode reminds us just how much maps are about gaming, or gambits, as much as mirrors of the situation on the ground: the escalation of a steady flow of intel maps that the airman approved for full security clearance had spread on Discord from January to March before they ended up on the Minecraft Earth map server suggests not only how private unmoderated platforms migrated to a broader community, by a twenty-one year old who had gained Top Secret security clearance to "sensitive compartmentalized access" since 2021, and was familiar–if not curious–as an Airman to read maps projecting aerial strikes and interpreting aerial combat maps.
Jack Teixeira may not have intended to post the intelligence documents marked "Top Secret" about the Ukraine War in specific. He posted them to a channel of video gamers. To be sure, he'd tried to process the documents he had access, describing them as best he could as detailed summaries that he hoped would be exciting for his fellow-gamers–even if some of the analyses of Russia's invasion of Ukraine and include images of the hotspots of war in Kharkiv and Bakhmut, some of the most intensive areas of combat, Ukrainian air assets in the region, as well as timetables of weapons delivery to Ukraine. Acting as if he was loosed in a house of secrets he wanted to process all around the globe reflect how much the Pentagon has become a clearing house of global knowledge. While both Ukrainians thought this was Russian propaganda cautioned they were western propaganda, and embarrassed Americans cast doubt on their official origins, the leaked intel gained international attention as they appeared on pro-Russian Telegram channels, including tabulations of Ukrainian and Russian war dead.
As many became skeptical of the authenticity of written descriptions of military engagements that Jack Teixeira had posted to his tightly knit social media circle of gamers, he tried to convince them as he began to post the images of documents from Ukraine War that were clearly marked "TOP SECRET"–as if to demonstrate their authenticity to his friends to assure them of the access he had to authentic records, soon bringing caches of what added up to hundreds of maps home to his dining rom table from January that he photographed on his mobile device, beside hunting magazines and sights for his guns. He was cumulatively releasing a hundred and then two hundred more of documents that would slowly began to make rounds on different sites with limited attention. The release of the cache of maps by Teixeira of the plans and projections for war was the latest evidence of the surrogate war that was being waged between nations and international alliances in Ukraine in a scorched earth fashion, but it was evidence of the scale and nature of a global war, waged on information networks and on the ground, based on intelligence as well as arms, the substrate filtered from global intelligence networks that was destined for few eyes–although when they appeared on a Minecraft Discord server beyond the far smaller American group they had first circulated, they quickly spread on 4chan, Twitter, and Telegram servers that entered the global media sphere in ways Teixeira seems never to have anticipated. Teixeira seemed shocked by the global intrigue–real discord!–the revelations spawned; an avalanche arrived four months after he began posting to friends, and in his final email messages as he quietly closed out accounts said farewell in a rather valedictory way, as if not yet registering the chances for his imprisonment.
The rather surprising auspicious kinship of his name to elegant cartographers of the early modern period was probably beyond Teixeira's knowledge. Unlike maps of Japan celebrated early modern Jesuit cartographer Luis Tesiéra sent to Abraham Ortelius of Japan, from Spain, leading Ortelius to craft the first accurate European map of the island even if neither man set foot there, to be sure, Jack Teixeira had never set foot in these territories, but had perceived these theaters of war only from afar in news media, and seems to have tried to reveal a more real sense of proximity to the battle sights through the Top Secret maps. Jack Teixeira posted inside intelligence compilations onto Discord because they seemed real cool, or real and cool. The hand-painted planisphere credited to the Portuguese cartographer Abraham Teixeira of 1573 revealed the world amidst a chain of secrets of another sort–global spice routes–had a cool factor as well, to be sure, but far more tied to the globalism of another era, if in its detail and cutting edge for its day.
Domingos Teixeira, 1573 (Biliothèque nationale de France)
The global reach of these early modern nautical maps promised a new global coverage of sea routes. No one could assess the damage that Airman Jack Teixiera's eager oversharing had caused, or its effects on the war, but the human geography of combat intersected with the geographic imagination of gamers in more explicit ways than we had been accustomed to admit. If the demographic of peace-loving military service who relaxed by enjoying war-games they imagined cordoned off from the real world is unknown, it is far greater than we would like to admit. It's hard to imagine the intensity with which his gaming led him to remove, photograph, share, and repost the maps and other intel, as if he was reaching out to folks by entrusting them with Top Secret information on a medium that he must of known had global reach. Was the game of courting public revelation of his own breaking protocol by revealing state secrets part of the game?
Maps and secrecy are, of course, in the news in other areas this week, including that a map of sensitive intelligence information–this one we haven't yet seen–was kept by Donald Trump from the White House, and after being taken to Mar-a-Lago perhaps displayed or shared, perhaps including military intelligence. Trump's lawyer Christopher Kise questioned the imbalance in national security questions in the Biden administration by focussing on "some outdated map" Trump took to his resort in violation of national security protocols, but allowing "real wartime intelligence data is flying out of the door"–or at least being shared on social media outlets–trying to distract from how Trump took a classified map of "sensitive intelligence information" out of the actual White House door to keep it in his private possession among classified records he regarded as memorabilia or bargaining chips. Is the game of secrecy waged about the secrets in maps always as important as their contents?